Madeleine McCann, aged 9

Madeleine's Song
"We're Still looking for you"
Register
You are currently viewing these forums as a Guest. To access all forums, please log in. If you are not currently a Member, please register.
"REGISTER"
November 2018
| Mon | Tue | Wed | Thu | Fri | Sat | Sun |
| --- | --- | --- | --- | --- | --- | --- |
| | | | 1 | 2 | 3 | 4 |
| 5 | 6 | 7 | 8 | 9 | 10 | 11 |
| 12 | 13 | 14 | 15 | 16 | 17 | 18 |
| 19 | 20 | 21 | 22 | 23 | 24 | 25 |
| 26 | 27 | 28 | 29 | 30 | | |
Calendar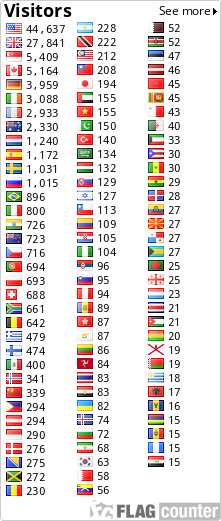 Social bookmarking










Bookmark and share the address of Find Madeleine on your social bookmarking website

Mon Jun 23, 2008 6:01 pm posted by pam supportfromireland Post subject: BABY MKUTSHWA 5 Mths - Missing from Jo'burg (South Africa) - 16/02/07
Baby Mkutshwa was abducted from a hospital in Jo'burg in February this year. The picture below is that of his brother at 3 months old to give an idea what he may look like.
Please pass this on all over the world. Thank you
http://img443.imageshack.us/my.php?image=babymkutshwain0.jpg
Last edited by pam supportfromireland on Tue Mar 10, 2009 9:31 pm; edited 1 time in total

pam supportfromireland

Forum Moderator (Missing)





Number of posts

: 6734


Registration date :

2008-08-08



I just checked up on Pink ladies website. On it, for this case, a message that indications are this baby was taken to EU !! They worry the baby will be difficult to identify now. Members any ideas of how we may be able to help?

pam supportfromireland

Forum Moderator (Missing)





Number of posts

: 6734


Registration date :

2008-08-08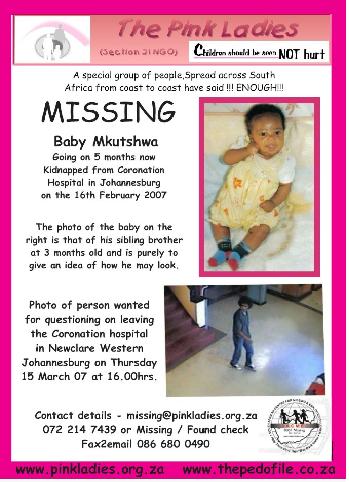 _________________
Anything that I say which is not referenced to an original source is entirely my own opinion.
May we all continue to work together to bring Madeleine home.

merlynsam

Admin





Number of posts

: 4656


Registration date :

2008-08-08



IOL.za
23 February 2007
Distraught Mom tells of how baby was snatched
Nothemba Gweje had held her newborn son for only a few hours - and hadn't even named him - when the infant was snatched from hospital.
The abduction of Gweje's baby a week ago from Coronation Hospital in Newclare, western Johannesburg, has led the Gauteng health department to ask all provincial hospital chief executives to jack up their security.
But that provides no solace for the distraught 24-year-old mother, who also has a four-year-old son and two-year-old daughter.
Hours after the Diepsloot resident had her baby by caesarean section last Thursday, the infant was taken from her bedside while she slept.
Speaking to The Star on Thursday, Gweje said during visiting hours last Friday afternoon she had noticed "a coloured woman wearing blue jeans and an Orlando Pirates T-shirt" come in and sit next to a woman who had also just given birth.
She had seen the two women have a short conversation and watched as the visitor left.
The same woman then returned three hours later, during the last visiting period of the day, and asked Gweje if she knew the whereabouts of the mother to whom she had previously spoken. The woman had been moved out of the ward.
"I had my baby lying next to me and I told the woman to go and ask the nurses where her friend was. I saw her speaking to the nurses," said the 24-year-old Gweje.
She said the woman later came back and, without uttering a word, had sat on a bench next to her and the baby. She had then taken her baby boy and started playing with him.
"I had taken some tablets and was feeling drowsy. I fell asleep after a few minutes. When I woke up, the baby was gone," she said.
Gweje initially believed there was nothing suspicious about the woman, whom she now believes stole her child.
"I had seen her during the day but I didn't think much of it when she held the baby and started playing with him."
After the panic-stricken Gweje alerted nursing staff about her child's disappearance, they launched a search all over the hospital - to no avail.
It was only then that Gweje and the police discovered that the woman had begged the other patient for her newborn baby, because she could not have children herself.
"She (the suspected abductor) said she wanted a baby because she couldn't have any children. She had said to the woman 'You are able to have children, but I can't. Why you can't give me your baby?'" Gweje said.
The baby's father, Zibele Mkutshwa, said he was finding it difficult to understand how the kidnapper had managed to bypass nurses and security guards.
"We don't have much, but we would appreciate it if someone could at least tell us if there are any other ways we can deal with this," said Mkutshwa.
Gauteng health department spokesperson Vusi Sibiya on Thursday told The Star the health authorities did not consider the theft of the baby to be "symptomatic of a wider security problem at Coronation Hospital", but rather the result of a combination of unfortunate circumstances.
Since the incident, the hospital has tightened its security by implementing new rules, which came into effect on Sunday, that allow only fathers of babies in the maternity wards.
A team from The Star, posing as visitors on Thursday, were blocked from the entrance to the ward and told that nobody except the partner of a patient was allowed to go inside.
Security guards said family members wishing to see a patient would have to first get permission from the hospital prior to their visit.
"We are working very closely with the police on this case," Sibiya said.
"In fact, we kept the baby's mother at the hospital at the police's request so that they could conduct interviews with her. Initially, the mother was too traumatised to answer the police's questions properly."
According to Sibiya, a number of the hospital's wards are monitored by CCTV cameras.
"But this incident did not happen in the labour ward, but in the post-caesarean recovery area.
"This incident also occurred during visiting hours, when there is an increase in the level of human traffic passing through the wards.
"A number of visitors also bring babies and small children with them," Sibiya said.
Police spokesperson Captain Cheryl Engelbrecht said there had been no arrests, but police were studying CCTV footage of the suspect carrying the baby out of the hospital.
http://www.iol.co.za/index.php?sf=1&set_id=1&click_id=13&art_id=vn20070222233058238C455332

pam supportfromireland

Forum Moderator (Missing)





Number of posts

: 6734


Registration date :

2008-08-08



This is such a sad story. Baby is feared to be in EU now. Is there anything you can do to help? I am thinking if we all contact Missing People Bureau services for our own countries in EU, there may be a chance of finding her baby. Please it must be awful for her.

pam supportfromireland

Forum Moderator (Missing)





Number of posts

: 6734


Registration date :

2008-08-08



Daily sun
12 March 2008
No joy yet for stolen baby's mum
NOTHEMBA Gweje is appealing to a woman who took her baby to bring him back.
It's now a year since Nothemba Gweje's one-day-old son was snatched from her hospital bed.
The devastated mother of two said she hasn't heard anything from either the hospital or the cops since then.
A 26-year-old mother bore a baby boy in February 2007 at Coronation Hospital.
But sadly, a day afterwards, her son was snatched from her by a woman who pretended to be visiting a patient in the bed next to hers.
"She took my baby and acted as if she was playing with him," she recalled.
Nothemba had taken medication minutes before the woman arrived and fell asleep. When she woke up her child was nowhere to be found.
"I got up from the bed to ask the staff members who were on duty at that time if they hadn't seen my child but nobody knew what happened to him."
She said a case of baby-snatching was opened by the hospital, but to this day, the old woman who disappeared with her son has not been found.
Neither did the hospital say anything to her afterwards.
This mother of two says she cries every day as she is worried about what could have happened to her baby.
"I am appealing to the woman who took my son to bring him back," she pleaded.
Since the incident, her life has not been easy for her and her husband.
"There is no peace in my house. We need your help," she appealed to Daily Sun.
The hospital could not be reached for comment.
Zanele Mngadi, spokeswoman for Gauteng Department of Health, said the matter is being handled by the cops.
Inspector Lorraine van Emmerick, of the Booysens cops, said they are still investigating the case.
She said that so far they have not received any tip-offs.
http://152.111.1.87/argief/berigte/dailysun/2008/03/13/DJ/9/gweje.html

Twiglet

Admin





Number of posts

: 20941


Registration date :

2008-08-11



Times Live
1 September 2009
No leads on baby stolen from hospital
A BABY boy snatched from a public hospital a day after his birth in February is still missing.
Police yesterday said the investigation was progressing slowly because they have few leads.
The investigating officer, Captain Elsa Coertzen, said: "We have nothing to go on."
An identikit of the suspect was released months ago, but no one has come forward with new information.
Baby Bulela Gweje was snatched from his mother, Nothemba Gweje's, bedside while she was recuperating from the birth at Coronation Hospital in Johannesburg. The little boy, who would now be six months old, was taken by an unknown woman who approached his mother and asked if she could hold the child. The two women spoke for a while until Gweje dozed off. When she woke up, the woman had disappeared with her child.
The hospital, which has since increased security at the maternity ward, hired a private investigator, Vincent Harris, to help find Bulela.
A new camera system has been installed in the maternity ward and no one is allowed entry without passing through a security check.
Hospital management said they had also installed a tagging system that allows them to track the movements of children.
http://www.timeslive.co.za/sundaytimes/article65994.ece

Twiglet

Admin





Number of posts

: 20941


Registration date :

2008-08-11



Just checking in on this case and the Pink Ladies organisation.I couldn't find any info re this case but please FB members do a search.
The ladies and other organisations have been very active. Heartwarming to see and we can learn from there in our part of the world I feel !
https://www.facebook.com/note.php?note_id=240369472668076

pam supportfromireland

Forum Moderator (Missing)





Number of posts

: 6734


Registration date :

2008-08-08




---
Permissions in this forum:
You
cannot
reply to topics in this forum